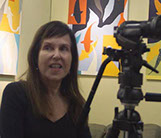 Leslie Streit is a writer, director, producer. Her 2005 film, God Wears My Underwear, a documentary-narrative hybrid, which ties the 1940s Jewish Holocaust to the 1950s genocide in Tibet was screened at several international festivals, including XXVII Festival Internazionale Cinema e Donne, DNA Film Festival in Toronto (Best Short Film), WCFF, M-SPIFF, NYIIFVF and IFFS.
Streit's short films have been screened at international festivals and broadcast on Bay Area PBS, OffLine, World News Network and IFC online. Honors include Selected Artist at the Hong Kong Arts Biennial 2002 and several screenplay awards.
In 1996 Streit co-produced the historic VD2001 one of the first serials to appear on the web which was based on her live multimedia production. This toured to the Edinburgh Festival with support from Intel Corp and several other Silicon Valley corporations. As co-producer with Robin McCain, she was awarded the right to use the prestigious ".p.g.a." title for her work on Elly and Henry (2014), a feature documentary that was sponsored by the San Francisco Film Society and is currently distributed worldwide by Espresso.TV. Also completed in 2014 was the interactive DVD How to Make a Ballet Dancer which was sponsored by ODC Theater, San Francisco.
Leslie is now working on An American Ballet Story, about the groundbreaking Harkness Ballet and an experimental project about ghosts & spirits called Can You See Me. She continues to work on season 4 of the online comedy cooking series The Evil Auntie Show, an Official Honoree of the 2009 Webby Awards and a Silver W3 Award winner, currently distributed by Blinkx and other online venues through TubeMogul.

Robin Elaine McCain is a pioneer in applied multimedia, computer graphics and theatrical productions. She holds a B.A. degree in radio/tv/film & technical theater from Rhodes College. She is a member of the Producers Guild of America (PGA) where she has served as a board member of PGA NorthWest and on the PGA Documentary and Nonfiction Committee.
McCain has been a member of USITT, Bay Area Video Coalition, Film Arts Foundation/San Francisco Film Society and appears in Who's Who.
She also stars in the online comedy cooking series, The Evil Auntie Show, for which she is co-producer, editor and vfx artist.
McCain filled several production roles on Elly and Henry, a feature documentary about Holocaust survivors who built the first solar house in America, as co-producer, sound, grip and webmaster.
Earlier she was co-producer and responsible for digital visual effects on God Wears My Underwear, an award winning experimental film about the Holocaust and reincarnation, which toured to several international festivals and is included in The Internet Archive.
McCain has co-produced over two dozen projects with Leslie Streit. Most notably, Vlad Draculea in the Year 2000 (1994), a multimedia stage production which toured to the Edinburgh Festival and provided the inspiration for VD2001 (1996) the first narrative series on the Internet (winner of several awards), Eyewitness (1999) an internationally acclaimed short film and Anarchist, a graphic novel for the Internet.
McCain's work in multimedia, computer technology and graphics has led her to a number of well known clients including Intel Corporation, LucasFilm and NASA.